Arkhangelsk and Kargopol
Our orthodox history has left a lot of monuments, both of history and architecture. Kargopol and Arkhangelsk are those of them which surely can be called symbols of Russian spirit
Arkhangelsk and Kargopol
New offer!
Unique authorial tours for individual tourists!
Mini groups from 2 people!
Our orthodox history has left a lot of monuments, both of history and architecture. Kargopol and Arkhangelsk are those of them which surely can be called symbols of Russian spirit. The ancient name of our region is Pomorye. When we say Pomorye – we mean not only interminable forests or White Sea. Pomorye also includes Arkhangelsk, Solovetsky Monastery, diamonds, oil, submarines, white bears, open-air museum "Malye Korely", Mikhail Lomonosov, Fedor Abramov, Stepan Pisakhov, salmon, kozuli. You can not feel all these it not to see it by yourself. We invite you to take part in travelling around
Russian North and to see real Northern pearls – Kargopol and Arkhangelsk.
Day 1 (Friday)
04:12 – Arrival at station Nyandoma of tourists fom St. Petersburg by train № 390 St. Petersburg – Arkhangelsk. Transfer to Kargopol. Housing in rooms with conveniences and the rest. (early housing is paid hourly).
06:58 – Arrival of tourists from Arkhangelsk by train № 671 Arkhangelsk-Nyandoma. Transfer to kargopol. Housing in rooms with conveniences. (early housing is paid hourly).
10:16 – Arrival at station Nyandoma of tourists from Moscow and Vologda. Transfer to kargopol.
Housing in rooms with conveniences.
12:00 – Dinner in hotel café.
12:50 – Gathering on hall. Meeting with the guide.
13:00 – One of the oldest cities of Russian North sightseeing excursion .
Architecture of Kargopol is the natural extension of untouched North nature. Cozy wooden houses, magnificent temples, merchant manors, modern buildings are successfully coexist in this ancient and at the same time modern city. Tourists will see the architectural ensembles of white stone temples of XVII-XIX centuries, ruins of Valushka Fortress, walk along Onega River embankment.
14:30 – Visiting Sobornaya bell tower fitted with viewing points on several layers (self-dependentely, for extra pay – 70 rubles and if weather conditions permit). Visiting souvenir shops.
15:00 – Visiting the excursion "Icon painting, carving, sculpture: cultural traditions in Kargopol in XVI-XIX century". Early Kargopol icons demonstrate the influence of Rostovo-Suzdal and Novgorod schools. Kargopol own traditionas of icon painting began to develop since XVII century. Festival tier "Deesis" and "Dmitry Solunsky" performed on gold background is very expressive. There is also carved icon of Nikolai Wonder-worker from the city "Svyato-Dukhovskoy" parish. Among other exponents are wooden carved icons and crosses which were used by old-believers.
16:30 – Visiting of eco-manor of wooden sculpture "Bear region". For extra pay you can also visit master class dedicated to art of wood carving.
18:00 – Dinner in hotel café (organized by yourself)
19:00 – At will and for extra pay (100 rubles apiece)you can visit the first private house in Kargopol – museum of potters Shevelevs. (Gagarina St. 32)
Day 2 (Saturday)
09:00 – Breakfast in hotel café.
10:00 –Visiting exposition "Walk of fair women". Here Kargopol golden embroideries, needleworks, folk dresses are represented. The big part of exposition shows the culture and traditions of Russian table.
11:00 – Visiting the Center of Folk Crafts "Housewife" where tourist will get acquainted with the process of Kargopol clay toy making, of old knitting loom working. You can buy birchbark products and other souvenirs.
12:00 – Dinner in hotel café. Leaving the rooms. (Luggage is checked in hotel cloak-room.)
12:30 – Leaving to country "Oshevenskaya Sloboda". Visiting lexandro-Oshevensky Monastery, which was founded in 1435 and now is in the process of restotation. The monastery is located in several kilometers from Kargopol. There tourists can give a touch to the stone with footprint of blessed Alexander Oshevensky who is the sanctity of Kagopol, see Georgievskaya Church of XIX century, wooden Bogoyavlensky temple of 1787 and vow crosses. If the weather is warm and free time is enough you can swim in Saint Spass Lake. Visiting Saunino-village where you can enjoy wonderful ensemble of wooden architecture – Church of John Chrysostom(1665) with painted ceilings and tabernacular bell tower with belfry. Coming back in Kargopol through Arkhangelo village where you will see two wooden churches of XVIII century - cube church of Michael the Archangel and stepped church of Purification of Virgin Mary.
18:30 – Arrival in Kargopol. Free time.
19:30 – At will and for extra charge motor tour in Bolshie Lyadiny village can be organized (37km).
Exterior seeing of hydra-headed Bogoyavlenskaya Church (1793) with half-rounded porch – gulbische.
Visiting ethnographic museum-workshop. Dinner with pickles.
22:00 – Coming back to Kargopol.
23:00 – Transfer to Nyandoma.
23:55 – Departure by train №16 Moscow-Arkhangelsk.
Day 3 (Sunday)
06:51 – Arrival in Arkhangelsk at railway station by train №16 Moscow-Arkhangelsk. Transfer to hotel.
07:20 – Housing in a hotel of chosen status.
13:00 - Sightseeing excursion "City-tour"
The tour acquaints with Arkhangelsk 4 age-long history, with varied way of life in modern Arkhangelsk, with its main sights. Gostiny Dvor, family chapel of Solovetsky Church, Lutheran Protestant Church of Saint Catherine, a lot of monuments, ancient buildings – all these make unforgettable impression on everyone. You will certainly go back over and over again.
15:00 – Out-of-town excursion in open-air museum, featuring the traditional wooden architecture of Arkhangelsk area – Malye Korely and visiting tea-house.
An open-air museum, featuring the traditional wooden architecture of Arkhangelsk area "Malye Korely" is located in 25km from Arkhangelsk on picturesque bank of the Northern Dvina. This unique museum is open since 1973. It has preserved wonderful examples of wooden architecture and shows the country way of life of the past. The biggest Russian museum is divided into segments and such arrangement copies the arrangement of the buildings in Northern villages in different parts of Arkhangelsk region. Here one can meet all patterns of Pomor architecture – log houses, buildings with six walls, ancient churches and temples, storehouses built on piles like "a hut on the chicken legs". The special pride of museum is the exposition "Northern rings". Here annual festive circle of calendar folk rites are restored and folk festive are organized.
17:00 – Out-of-town excursion in the Museum of folk crafts and tea-drinking with pies in Senya Malinov
drawing room.
The museum contains 4 show-rooms, hall for 30 seats, Senya Malinov drawing room, souvenir shop where you can buy local craftsmen' works of applied art. In 2008 the show-room and the exposition "Crafts of White Sea" were open. In 2010 the exposition "War in seaside fates" was open in honor of 65 th anniversary of Russian Victory in 1945. It represents the following exhibits: tools of fishermen and hunters, household effects, unique photos and documents dated by XIX-XX centuries.
20:00 – Dinner (organized by yourself).
Day 4 (Monday)
09:00 – Breakfast in hotel in restaurant
09:50 – Group meeting in hotel's hall
10:00 – The excursion "To White Sea" in ancient Zaostrivye-village, in Severodvinsk – city of shipbuilders, visiting local history museum and Yagry-Island.
This excursion is just for you if you are interested in knowing about Russian North way of life. You will visit stone Sretenskaya Church (1776) and wooden Pokrovskaya Church, walk through the village and talk to locals. Then you will go to Severodvinsk (earlier called Molotovsk) – the city where the center of Russian atomic shipbuilding industry was established. Here you can get acquainted with the city during sightseeing excursion. Then you will visit Yagry Island. Here unforgettable walk along the embankment is waiting for you. Sand dunes and Kursk memorial will certainly impress you.
13:00 – Visiting the unique interactive exhibition "The Museum Submarine" in local Severodvinsk museum.
You will not only listen to history of Russian shipbuilding industry formation and technologies of submarines building, but also will see interactive exhibits. The main subject here is the model of atomic submarine, which demonstrates its dive, firing of ballistic rocket and acoustic functioning.

14:00 – Coming back to Arkhangelsk
15:00 – Dinner in restaurant
16:00 – The tour "Old Arkhangelsk Miniature"
You will see unique man-made masterpiece, which shows us pre-revolutionary Arkhangelsk from one bridge till another, from The Northern Dvina embankment till Troitsky Avenue. You will get acquainted with the life of talented craftsman Zosima Kalashnikov and with his Arkhangelsk miniature, which comes to life when the guide speak due to its fantastic highlighting, opens its doors and makes time travel come to reality.
16:30 - Walking tour along Chumbarova-Luchinskogo – the street of ancient Arkhangelsk.
It acquaints with the wooden architecture of the city of XIX-XX centuries, with the life of famous people of the past and of our days. You will have the possibility to make a wish near the monument of famous fairy tale writer Stepan Pisakhov and to make a photo with his character Senya Malina sitting on the enormous North burbot.
17:30 — Free time for buying souvenirs. Returning to the hotel. Dinner (organized by yourself).
Day 5 (Tuesday)
09:00 - Breakfast in hotel in restaurant. Leaving the rooms.
10:00 – Museum "Gostiny Dvor"
"Gostiny Dvor of Arkhangelsk" is a famous historical-architectural complex and the unique monument of Russian stone architecture of late XVII century. "Gostiny Dvor" was built in 1668–1683 by order of Tsar Alexey Mikhailovich. It was a great complex which included German and Russian Dvors and Stone town. The complex was widely used for international trade, storage of goods and housing foreign merchants.
13:00 – Dinner in city café.
14:00 – Transfer to railway station.
15:50 – Departure by train № 371 Arkhangelsk-Kotlas
20:08 – Departure by train № 15 Arkhangelsk-Moscow
20:43 – Departure by train № 389 Arkhangelsk-St. Petersburg.
| | | |
| --- | --- | --- |
| The hotel | Prise for 1 place in standart double room | Extra charge for single housing |
| Belomorskaya Hotel | 35 000 | 6 400 |
| Dvina Hotel | 36 500 | 6 800 |
| Pur-Navolok | 38 000 | 7 800 |
We remind you that the standard check - in time-14.00, check - out-12.00
Living
Excursions and meals included in program
Group transfers and transport service
THE TOTAL COST DOESN'T INCLUDE
Railway tickets
Meals
Living
Excursions stated as "self-dependent" or "for an extra-charge".
Visiting Lyadiny village with ethnographic museum and country dinner.
Touristic company has a right to change the time of excursion.
June– 06, 13, 20, 27
July – 04, 11, 19, 26
August – 01, 08, 15
Attention!
Tour is possible to organize when there is 2 and more people in group. All the rooms in hotels are with conveniences. The order of excursions can be changed by host side because of weather conditions or local events, without changing the program of excursions.
The basic program is subject to change, and we recommend to add optional excursions, master classes, concerts, tastings and many others.
We know everything about your favorite region and make the perfect adventure for you!
We can include in the program a visit to places where you buy gastronomic Souvenirs of the Arkhangelsk region: fish, Northern berries, pastries and Pomeranian tinctures (cranberries, cloudberries, cranberries), venison, marmalade based on agar-agar, traditional painted gingerbread goat.
RECOMMENDED FLIGHTS AND TRAINS
Arrival to Arkhangelsk from Moscow by Aeroflot flight SU 1332 at 10:10
Arrival to Arkhangelsk from Moscow by train at 06:00
Departure from Arkhangelsk to Moscow by Aeroflot flight SU 1331 at 19:20
Departure from Arkhangelsk by train to Moscow at 20:10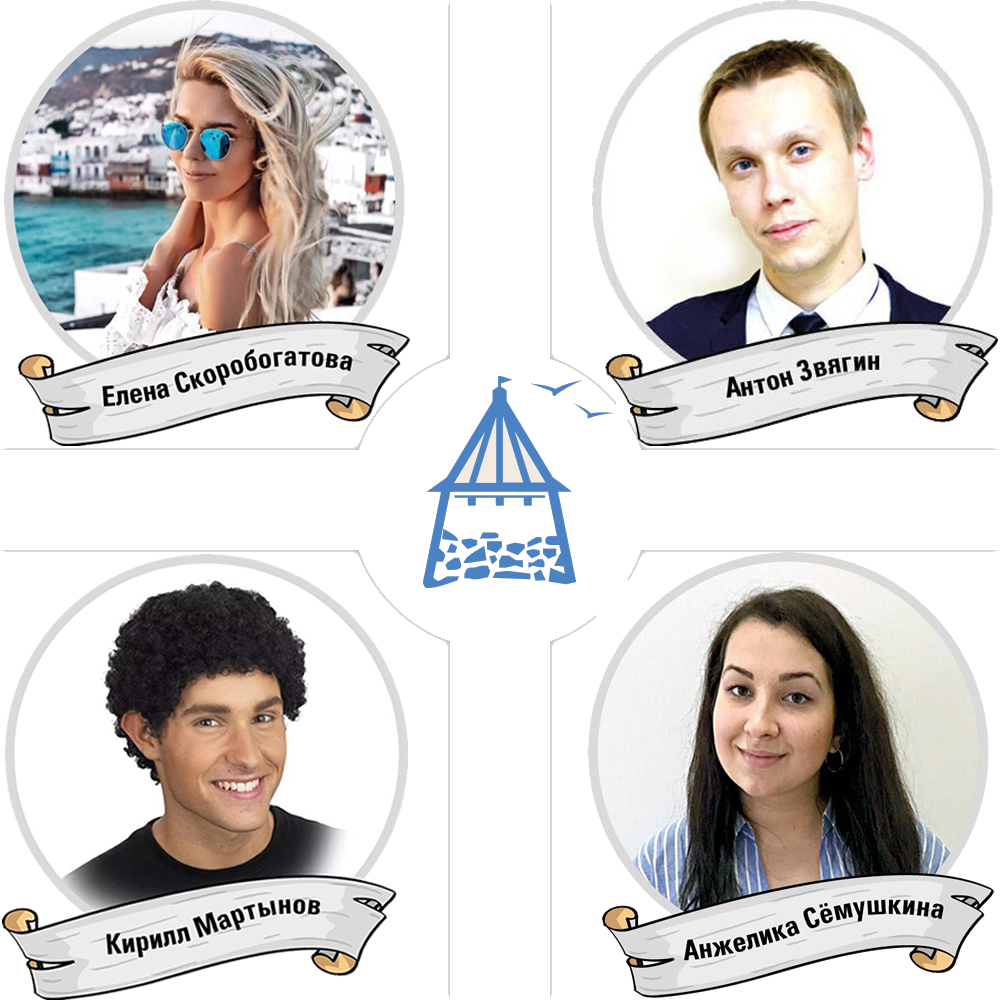 Оставьте заявку
и получите в подарок
нашу фирменную
карту путешественника!