Arkhangelsk - Pinega - Lomonosovo
The opportunity to see three beautiful places Of the Russian North
Arkhangelsk - Pinega - Lomonosovo
Corporate Tour
Available dates in 2019:
From May till September, prior booking required.
Day 1
06:51 – Arrival at railway station in Arkhangelsk by train № 16 Moscow-Arkhangelsk. Transfer to the hotel.
07:00 – Rooming. The sightseeing excursion "City-tour" acquaints with Arkhangelsk 4 age-long history, with varied way of life in modern Arkhangelsk, with its main sights. Gostiny Dvor, family chapel of Solovetsky Church, Lutheran Protestant Church of Saint Catherine, a lot of monuments, ancient buildings – all these make unforgettable impression on everyone. You will certainly go back over and over again.
11:00 - Out-of-town excursion in open-air museum, featuring the traditional wooden architecture of Arkhangelsk area – Malye Korely with demonstration of Northern rites and visiting tea-house. An open-air museum, featuring the traditional wooden architecture of Arkhangelsk area "Malye Korely" is located in 25km from Arkhangelsk on picturesque bank of the Northern Dvina. This unique museum is open since 1973. It has preserved wonderful examples of wooden architecture and shows the country way of life of the past. The biggest Russian museum is divided into segments and such arrangement copies the arrangement of the buildings in Northern villages in different parts of Arkhangelsk region. Here one can meet all patterns of Pomor architecture – log houses, buildings with six walls, ancient churches and temples, storehouses built on piles like "a hut on the chicken legs".
15:30 - Out-of-town excursion in the Museum of folk crafts and tea-drinking with pies in Senya Malinov
drawing room.
The museum contains 4 show-rooms, hall for 30 seats, Senya Malinov drawing room, souvenir shop where you can buy local craftsmen' works of applied art. In 2008 the show-room and the exposition "Crafts of White Sea" were open. In 2010 the exposition "War in seaside fates" was open in honor of 65 th anniversary of Russian Victory in 1945.
17:00 - Museum "Gostiny Dvor"
"Gostiny Dvor of Arkhangelsk" is a famous historical-architectural complex and the unique monument of Russian stone architecture of late XVII century. "Gostiny Dvor" was built in 1668–1683 by order of Tsar Alexey Mikhailovich. It was a great complex which included German and Russian Dvors and Stone town. The complex was widely used for international trade, storage of goods and housing foreign merchants.
18:00 - Walking tour along the inmost street of old Arkhangelsk – Chumbarova-Luchinskogo. It acquaints with the wooden architecture of the city of XIX-XX centuries, with the life of famous people of the past and of our days. You will have the possibility to make a wish near the monument of famous fairy tale writer Stepan Pisakhov and to make a photo with his character Senya Malina sitting on the enormous North burbot.
19:00 – Dinner.
Day 2
06:00 – Early breakfast in hotel restaurant
06:50 – Gathering in hall
07:00 – The excursion "Secrets of Pinega Caves"
10:30 – Arrival at forest hotel "Golubino", tea-drinking with baking.
11:30 – Descending into the cave "Golubinsky proval". You can use special outfit for extra charge (400 rubles) - camouflage suit and cotton gloves. Pinega Caves – is a unique places well-known for people all around the world. Underground karst holes and Pinega Caves systems are the longest and the most numerous in Ciscaucasian Russia. "Golubinsky Proval" is one of the most beautiful Pinega caves. Here familiar world, time and space perception turns upside-down. You can see frozen streams as if they were thrown from incipient crack at the bottom of some grot and spilled over the ceiling. In other hall frozen water tiptoes in search of exit from dark cave and lasts to domes of silent caves. Ice crystals pierce an air with sparkling rays. Detached stone layer sinks but stays put and move like enormous snake tongue. Mournful voices of brooks missing in rock mass are heard in perfect silence. But these feelings changes every time no matter how many times you have been here – every new meeting is really inimitable and exciting.
14:00 – Dinner in forest hotel "Golubino"/ hotel complex "The Red Hill"
15:00 – Ice-free waterfall "Sacred spring". Pinezhsky Nature Reserve is wonderful and beautiful place located far from footworn touristic tracks. According to records 189 species of birds live here and 22 of them winter in reserve. They are owls, wood grouses, black-cocks, hazel grouses, woodpeckers, jay, ravens, eagle, erne, and sea-eagle. Gray cranes fly here every year. Among wild animals you can see brown bear – the symbol of taiga forest. The perfect hearing and smell helps them to hide in time in case of meeting with a man. All the known meeting with people had a happy end. Also fox, lynx, wolf and glutton live here but there are only about 2-6 units of every of them. You can reach the waterfall "Sacred Spring" – one of the wonders of the world – by walking along narrow winding track and admiring with stately Siberian larch. The guide will tell you about Pinega forests, animals, plants and about the ghost of wood goblin, which locals are afraid of.
17:00 - Visiting nonworking Krasnogorsky Monastery of God's Mother. "Krasnyi" means "beautiful" and this word is significant in the name of this place. Here tourists can enjoy magnificent breath-taking panorama. Meadows meeting with dark forest, glistening Pinega River below. Near the horizon Soyala village is hardly to be seen. Nearer on the left bank Yurola – one of the most ancient settlement here is located. Immense expansions are seen around. It is interesting that in XVII century this place had another name – Black Hill. Hard work of a lot of generations, who stubbed out meadows and fields, who erected wooden buildings has given to the hill the name "Red" or "Krasanaya". Queen's Sophia favorite – Vasiliy Golitsyn spent here the last years of his liafe and was buried in friary at Red Hill.
18:00 – Leaving to Arkhangelsk.
22:00 – Coming back to hotel, dinner.
Day 3
09:00 – Breakfast in hotel. Leaving the rooms.
09:50 – Gathering in hall.
10:00 - Tour to Lomonosovo, architectural complex in Kholmogory, visiting bell tower and the museum of Khomogory. We offer you to travel to the motherland of famous Russian scientist M.V.Lomonosov – to his native country earlier named Mishaninskaya, and now named in honor of Lomonosov. The country is located on the one of the islands of the Northern Dvina River against Kholmogory-village. Firstly you will leave Arkhangelsk by bus and then you will have to cross the Kurpokolka River to Lomonosovo by passage boat. Pomors have been living here from the ancient times. They pursue a trade on White Sea and in the Arctic Ocean. Mikhail Lomonosov was born here in 1711. Now there is a museum at the place where his house was. Near the museum a pond is situated, which as legend has it, was dug by Lomonosov's father – Vasily.
The collection of books of XVIII century, the collection of ancient building implements and picture-gallery are exposed in the museum. The first books of talented scientist and the miniature of his chemistry laboratory arouse intense interest among visitors. There are following expositions in the museum: "North is the motherland of Lomonosov" , "Lomonosov is a scientist", "Lomonosov is a great poet", "In memory of Lomonosov". Then you will visit factory of bone carving, works of which are popular and highly-prized in the world. The next your pause is in the district center – Kholmogory. The church ensemble includes Spaso-Preobrazhensky Cathedral of 17 century, stone bell town, Pontifical Houses where archbishop Athanasius hosted Peter the Great.
18:30 – Dinner in restaurant. Transfer to railwat station.
20:00 – Departure to Moscow.
The cost of 1 tour is in rubles. Heads of the groups are free of cost.
| | | |
| --- | --- | --- |
| The hotel | 10+1 / 20+2 / 30+2 | Extra charge for single housing |
| Belomorskaya Hotel | 20000 / 18000 / 17000 | 2000 ₽ |
| Dvina Hotel | 22000 / 20000 / 19000 | 2400 ₽ |
| Pur-Navolok Hotel | 23000 / 21000 / 20000 | 3400 ₽ |
Supplement for single accommodation per night
"Solovki-hotel" - 2250 rubles per person
"Solovetskaya Sloboda" - 2000 rubles per person
Meals at the restaurant
"Solovki-hotel" - lunch 850 rubles, dinner 800 rubles
"Solovetskaya Sloboda" - lunch 550 rubles, dinner 550 rubles
We remind you that the standard check - in time-14.00, check - out-12.00
3 meals a day according the program;
transfer in Arkhangelsk and on Islands;
excursions included in the program, living, insurance.
THE TOTAL COST DOESN'T INCLUDE
Touristic company has a right to change the time of excursion.
Additional discounts are allowed if a group consists of 10 and above.
We can offer to you to order service on English or German languages for foreign tourists for extra charge: for groups from 15 people – 2000 rubles apiece; for groups till 15 people – individual way of payment.
on request
The basic program is subject to change, and we recommend to add optional excursions, master classes, concerts, tastings and many others.
We know everything about your favorite region and make the perfect adventure for you!
We can include in the program a visit to places where you buy gastronomic Souvenirs of the Arkhangelsk region: fish, Northern berries, pastries and Pomeranian tinctures (cranberries, cloudberries, cranberries), venison, marmalade based on agar-agar, traditional painted gingerbread goat.
RECOMMENDED FLIGHTS AND TRAINS
Arrival to Arkhangelsk from Moscow by Aeroflot flight SU 1332 at 10:10
Arrival to Arkhangelsk from Moscow by train at 06:00
Departure from Arkhangelsk to Moscow by Aeroflot flight SU 1331 at 19:20
Departure from Arkhangelsk by train to Moscow at 20:10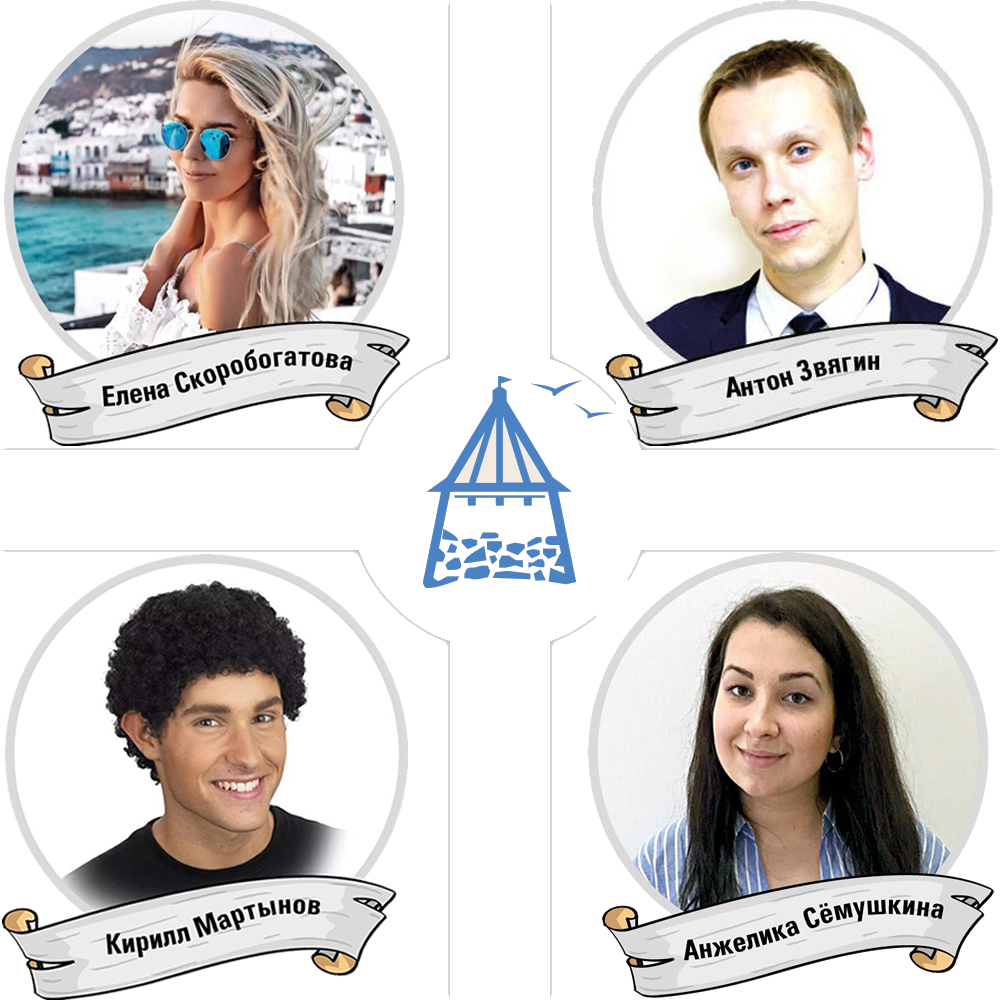 Оставьте заявку
и получите в подарок
нашу фирменную
карту путешественника!